Welcome to the Pretty Wild web shop. Here You'll find all the necessary clothing to look the part of a true wild heart.
All our merchandise are printed on high quality materials and with durable prints.
Shipping & Handling
Your order will be shipped as soon as payment is received. All payments are handled securely through Paypal. If you still have any questions after reading this, please don't hesitate to contact us via e-mail.
Shipping
We ship free worldwide
You will be notified by e-mail when your order is done.
We ship from Sweden.
Approximate delivery times (once order is shipped)
5-8 business days within Europe
12-18 business days for rest of the world
If your order still hasn't arrived after that time, wait another 2-3 days and then contact us via e-mail and we'll try to work everything out as soon as possible.

T-shirt: Wildheart
Price: 21€ (free world wide shipping)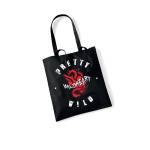 Wildheart bag
Price: 21€ (free world wide shipping)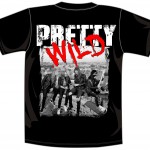 T-shirt: Album cover
Price: 21€ (free world wide shipping)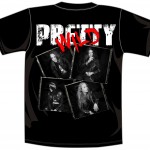 Pretty T-shirt: Pretty Wild logo
Price: 21€ (free world wide shipping)